WHY IPR.VC?
Unlike most media industry investors, who invest in media technology and platforms, IPR.VC is investing in media content.
IPR.VC invests in scalable cross media products, which can be licensed and transferred for other delivery channels and interfaces and they can be modified and licensed for new purposes. This is huge underserved market.
In the era of the Internet and new digital channels, IPR becomes a key source of value creation. IPRs can be scaled and monetized over a variety of channels, providing huge upside opportunity.
IPR.VC Management team track records in venture capital and media business includes content creation, creative direction, business management and investment management experience. For startups and content companies IPR.VC management's knowledge, skills and attitude guarantees respective and helpful standpoint. For investors it will lead to quality deal flow and profit opportunities.
We see that Media IPR industry customer companies need specialized financing instruments and management skills. Content IPR investor must work more like a producer than a investment banker or a tech venture capitalist (although the same skills are needed). The Fund is founded to fulfill these needs and to capitalize the new business territory.
Traditionally VCs have invested heavily in mediatech, distribution platforms and software. The value and investments in the media industry is moving fast to the content IPR. We believe that the value of the target companies is in their product rights portfolio and the licensing and public viewing payments revenue. IPR.VC is supporting companies' ownership and control for their IP's.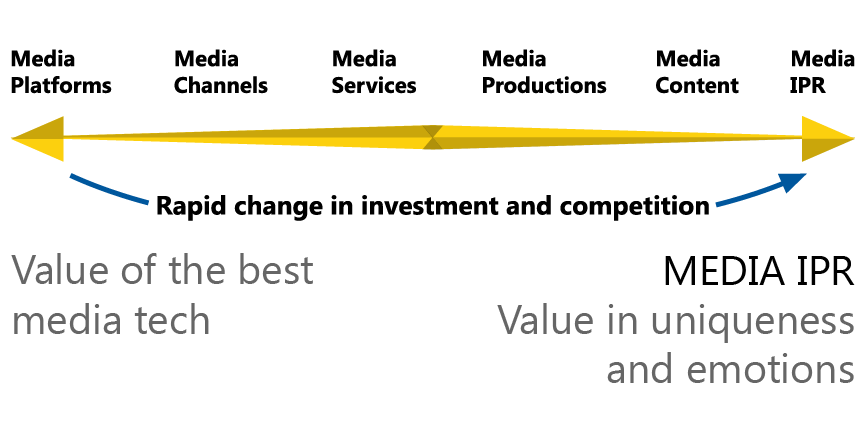 Media content is under-served area in terms of capital and other support, even the content is the primary motivation for users to use media services and devices. As a proof you may notice that the main share of media service revenues flows for the copyright and IPR royalties. The value is not (purely) in the tech but in the content. And the more the channel diversion continues, the less existing quality content there is for each channel without new investments of media channel owners.
Globally digital media is a growth business that will jump from $600bn in 2013 to $1tn in 2018 (PwC). Media industry investment activity has until now concentrated on technical platforms, such as video delivery or social networks. This has also led to soaring valuations of media platform companies. However, it is media content rather than platforms that consumers want and pay for: TV series, films, Internet media and games. IPR.VC invests in that growing area.
For more information:
WHAT ARE WE LOOKING FOR?
We are looking for excellent media content products to finance them and to help them to have international business.
Our growth criteria raises the bar – we hope that we challenge all producers to think international growth
We challenge and support our investments to think big
We help our investee companies to attract other investors as well.
What Does an Ideal Investment Case Look Like?
They have attractive, high-quality and original content
They have committed team with both creative and business ambitions
They have large potential audience and credible international roll-out plan
IPR.VC INVESTMENT CRITERIA
We are looking for excellent media content products to finance them and to help them to have international business.
| | |
| --- | --- |
| Team | Proven track record in content creation and business |
| Company | Financially viable company, no evident deal-breakers |
| Product | Innovativeness, ownership of IPs, scalability of IPs, quality |
| Market/customer need | Clearly identified need/demand; international potential |
| Distribution channels | Viable distribution strategy, disruptive channels taken into account |
| Potential of a major break- through | Management team subjective assessment of the content/concept potential |
OUR FOCUS
TV
Films
Web content
Mobile
Animation
Music
Books
Games
IPRs are legally recognized rights to creations of the mind. Under intellectual property laws, owners are granted certain exclusive rights to a variety of intangible assets, such as musical, literary, and artistic works; discoveries and inventions; and words, phrases, symbols, and designs. Common types of IPRs include copyright, trademarks, patents and industrial design rights.
IPR business differs in many ways from traditional tangible business practices. IPRs are highly scalable, offering big upside for content creators and content investors. As IPRs are by their nature intangible, agreements and practices are needed to be able to monetize them.
In a globalized world where physical products business is amid fierce competition, IPRs provide a way to differentiate one's offering. Digitalization is another trend that makes the earning potential related to IPRs even bigger.
The customers pay for the IPR's through the pay-for-content and indirect payment models. Pay-for-content may be paid for content download or usage time. The most typical indirect model is advertising.
The team will offer the companies strategic advice, industry expertise and contact network to support their international growth.
What is content IPR that IPR.VC is investing in?
Content IPR is an agreement-based right for commercial deployment of media content (film, TV show, game, book etc.)
Content IPRs are monetized through trading and licensing

Trading: changing ownership
Licensing: retaining ownership, charging a fee based on use or revenue

Content IPRs are fully scalable and in digital channels their variable reproduction costs are near zero
| | | |
| --- | --- | --- |
| | MEDIATECH | MEDIA IPR |
| Example | Social technical platform | Character and story |
| Purpose | Build functionality | Build emotions |
| Serves | Advertiser | Individuals |
| Value | Profile and mass | Individuals' payments, licensing |
| Scaling | Scalable when purpose the same | Fully scalable for other purposes also |
| Monetization | Selling the audience for corporations | Selling content for user |
| Licensing | Multiply the same as a new platform | New purpose |
| Exit | Tech giants | Media and publishing, IPR portfolio |
| Variable cost | Bandwith, cloud | Content producing, people |
HOW WE WORK
IPR.VC managers have worked in operational roles as digital media entrepreneurs, producers, marketing and media corporation executives and management consultants. This gives us a clear understanding of how different business models work in reality as well as understanding the daily challenges of operating businesses in the startup ecosystem.
We have on-going understanding of media market developments as well as supporting and complementing our investee companies through shared networks and knowledge transfer.
Our approach is to combine media and entertainment knowledge and networks with investment expertise, operational experience and the understanding of both content and technology.
INVESTMENT INSTRUMENTS
IPR.VC uses industry specific equity and loan instruments.
1. DEVELOPMENT LOAN
2. LOAN AND ROYALTY
3. EQUITY / STAKE
DEVELOPMENT LOAN investment is a small loan or equity investment to the target company for development of media content concept, manuscript and/or business model, developing the IP and building commercial deals and co-funding structure. If the target company lives up to the expectations, the Fund can deploy option right to make a bigger investment. This kind of early-phase financing has not been earlier available for content developers.
LOAN AND ROYALTY is loan-based arrangement that gives the Fund a share of commercial rights of a production of the target company's project. It will bring royalty income for the Fund.
EQUITY is investment in target company's equity. The Fund will become a shareholder of the company. This is similar to the common VC investment.
The combination of these instruments will be fitted for the investee company's situation and needs.
DEVELOPMENT LOAN
A small loan (typically 50.000€) investment for early development of the IP. IPR.VC FUND receives option right for further investments.
LOAN & ROYALTY
Loan and royalty right for cash-flowing the production phase and market roll-out. Typical size 0,5-1,5M€. Payback when the product generates revenue
EQUITY / STAKE
IPR.VC's ownership in the target company or share of product royalties. Typical size 0,5-1,5M€, targeting for company's equity trade sale or IPO within 4-5 years. Similar instrument to most VC equity investments.
HOW TO APPLY FOR FUNDING? PLEASE SEND
| | |
| --- | --- |
| Description of the content | Concept, script, mood board, game play document etc. |
| Description of the business | Business plan or other document describing business targets and strategy |
| Financing plan | Calculations and targets in Excel format |