Creating an impact on environmental, social and governance matter – IPR.VC ESG update 2020
The world we live in is in the middle of huge challenges from climate change to refugee crisis, not to mention Covid-19. As the governments around the globe are struggling to prepare and react for crisis's, it has become clear during the last 12 months that businesses can and must contribute on their behalf to society and to address the global issues.
In the investment community a key tool for creating positive impact on society is policy for environmental, social and governance matters, in short ESG.
At IPR.VC we implement an ESG assessment for each new investment and run annual ESG checks to our portfolio companies and assets.
In our 2020 ESG assessment we have identified three key areas for the upcoming 12 months:
Reducing environmental impact of film and TV productions
Enhancing diversity and inclusivity in our portfolio
Ensuring that anti-harassment policies are in place
For environmental impact we have created a planning and auditing model that will be rolled out in productions we finance during the next 12 months. We have started piloting the model in the first projects to collect feedback on real impact and practical implementation of the model. The model will cover key environmental aspects, such as people and goods, logistics, power supply, catering and waste streams. We will be requiring the deployment of the planning and auditing model in all our future investments.
For diversity and inclusivity, we are tracking female and male split and the amount of different nationalities. We are also studying ways to expand our tracking to other dimensions of diversity. The female share has steadily grown when it comes to all employees and board members of portfolio companies, but for managerial positions the development has stalled this year. We have taken an active role in enhancing female share of board members in the companies where we are shareholders. This has led to the companies starting to look for new board members beyond their existing networks, which has helped them to recruit both female and male board members outside of the old circles.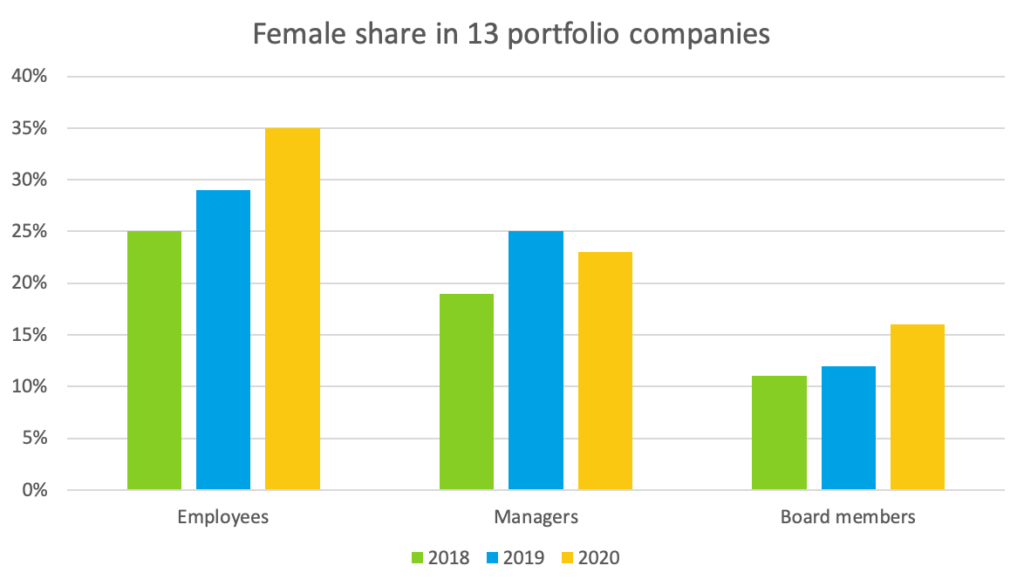 In the area of anti-harassment, we can now share that there is an anti-harassment policy in place in all of our portfolio companies. The next step is to define practices to ensure that the policies are in place and working as planned.
As investors it is our responsibility and privilege to work in ways that create positive impact on society. What we have achieved so far is a good start – but this is a long distance run and we need to challenge ourselves and our portfolio to continuously work towards to making the world a better place.