For investors
IPR.VC: Targeting Untapped Content Investments
IPR.VC is generating returns for its investors through investing in European filmed entertainment – TV, film and interactive content – a sector with little exposure by VC funds due to its specialized nature.
Media and entertainment content is an asset class which is growing, lucrative and non-correlated
The effects of the corona crisis on our fund's field of activity, the TV and film sector, are positive due to the growth of streaming services and the growing demand for content.
IPR.VC's investment instrumentation provides fast capital rotation, downside protection and low overall costs for its funds. Fund II IRR target is 21% (net). The strategy enables mezzanine risk level at VC class returns.
Fully invested Fund I has verified IPR.VC investment strategy and served as a basis for Fund II strategy which started the investment period with €42m capital commitments. Final target size for Fund II is €65m.
Media and entertainment industry is not correlated to typical macro-economic drivers or to stock exchange fluctuations.
While venture funds have been actively investing in media technologies, leading often to rising valuations, media content has not yet attracted VC investments in a large scale.
Media content is the growth business that IPR.VC is focusing on and it is this focus that brings IPR.VC funds proprietary deal flow, which technology funds do not cover.
The media content industry is booming due to the emergence of Internet distribution and changing consumer habits. The changes open up new opportunities in monetising media content assets, especially in filmed entertainment – movies and TV. In filmed entertainment, high-quality dramatic content that appeals to large fan bases is key for profitable business. Globally, filmed entertainment is a $500bn bullish market that is further strengthened by new players such as Netflix, Amazon, Disney+ and Apple, which are competing to add the attractive premier products to their services.
It's a recession proof industry: people will always consume media and entertainment content. Historically entertainment asset performance has no relationship to the macro-economic trends and is not affected by stock exchange fluctuations. During economic downturns, people often cancel their holidays in the sun and go to see a film instead.
It's a unique asset class for investors because media and entertainment content is non-correlated with the general economic trends. On the other hand, individual products have simultaneously high risk and volatility and therefore high profit expectations.
IPR.VC enables access for institutional investors the best European TV and Film productions and the growth of the business area and benefit from IPR.VC's know-how in managing the high volatility and difficult predictability of entertainment assets.
IPR.VC's investment instrumentation and agreements mitigate any unrewarded risks, such as production and producer-related risks. IPR.VC utilises warranty-like instruments which decrease volatility and protect the downside.
Unlimited return potential from rewarded risks. IPR.VC's ability to manage the rewarded risks differentiate the fund from many of its competitors. While protecting the downside, there is an immense upside for the investments.
IPR.VC has built a high-quality deal flow by partnering with leading sales and distribution companies in Europe. IPR.VC has an internationally experienced team with connections to all of the key players in the industry.
IPR.VC's investing instrumentation brings fast capital rotation and a high IRR. Investments are primarily debt-based instruments that incorporate the potential for unlimited returns in successful cases. The fund receives returns from the sales revenues of financed TV series and films, which allows earlier capital returns compared with regular PE funds. In the model, the costs of investment execution and exits are also clearly lower than in regular PE funds. The target IRR (net) is 21%.
The Fund follows the best practices of Invest Europe's recommendations for Governing and Reporting Principles which have been widely used in private equity and venture capital industries. Investments are reported at fair value according to IPEV Valuation Guidelines. Reporting to investors follows Invest Europe's professional standards. Reporting is done quarterly at a minimum to the Fund Investors (LPs). The Fund I investors are all Finnish companies or institutions.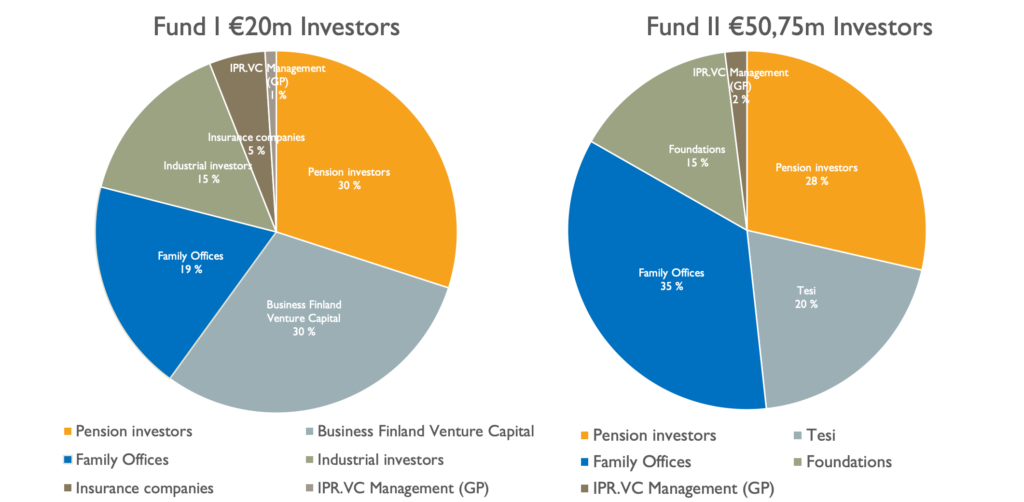 Here are some key trends we see in the media and entertainment market:
Disruption not over yet: complex distribution chain with many different partners likely to lead to consolidation eventually, but creating unseen demand for original content. IPR.VC is ready to take advantage of the great demand and high prices being paid for content.
Rise of global on-demand TV services. Subscription-based video-on-demand services (SVODs) attract consumers with an easy pricing scheme, flexibility from the television screen and highly compelling content. In this way, they challenge traditional advertising-funded and pay TV channels. Major SVOD services such as Netflix and Amazon Prime invest annually billions of euros in content and are attractive buyers also for IPR.VC's investments.
Increasing role of video and mobile content. Video is winning over text-based media and video is more and more often consumed on mobile devices especially within the youngest demographics.
European Digital Single Market and its effect on content business models. Europe is being developed into a real-world common market also for the content industry. In today's content business, there is a vast number of nationally operating content producers that have the potential to succeed in international markets.
Virtual reality (VR) in gaming and video content. VR will enhance gaming and video viewing experiences and thus open new markets for content; however, device penetration is still at low levels.
Artificial intelligence (AI) in content discovery and content creation. As AI technologies develop, we will see also content services that are AI powered.
M&A activity rising. M&A activity in media and entertainment content business has been growing especially in TV production and video games.
IPR.VC Fund I (Films, TV, games, and music fund) capital €20m is fully invested.
IPR.VC Fund II (target size €60m) currently invests in
1. TV content
2. Film
3. Interactive content
The information contained here on IPR.VC website does not constitute a distribution, an offer to sell or the solicitation of an offer to buy any securities in any jurisdiction, in which such distribution of offer is not authorized to any person.