Gigglebug and Zodiak Kids To Co-Produce New Comedy Series For Disney Channel EMEA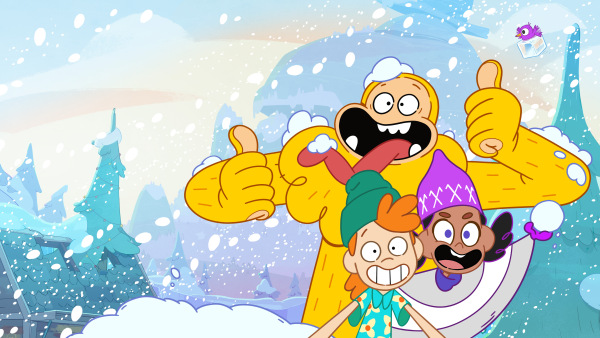 Zodiak Kids Studio France, part of Banijay, and Gigglebug Entertainment, the leading creator and producer of original kids content in the Nordics, today announced that they are co-producing The Unstoppable Yellow Yeti, an original animated comedy series for kids aged 6+ and their families, which has been co-commissioned by Disney Channel Europe, Middle East & Africa and Nordic broadcasters YLE, DR, NRK, and SVT.
The original concept was created by Gigglebug Entertainment's Joonas Utti (Creative Director) & Anttu Harlin (CEO) and co-developed by Zodiak Kids, Gigglebug Entertainment and Disney EMEA.  Joonas Utti & Anttu Harlin will direct and produce respectively alongside Zodiak Kids Studios Head of Content Development Gary Milne as Creative Producer.  The Executive producers for the series are Benoit di Sabatino (Zodiak Kids) and Anttu Harlin (Gigglebug Entertainment).
The Unstoppable Yellow Yeti is an off-beat comedy series set in a quirky little town above the Arctic Circle, where it is winter all-year-round, and monsters are strictly forbidden. The series follows the unexpected adventures of an unlikely trio of friends: surfer-boy-newbie Osmo, his no-nonsense cousin Rita, and the enormous, outrageous and unstoppable Yellow Yeti!
Production began Summer 2020 and the series is set to launch in 2022. The series marks first time Disney and YLE have co-commissioned a series.
Anttu Harlin, CEO and co-founder of Gigglebug Entertainment said:
"At Gigglebug we aim to positively impact the lives of children around the world by spreading joy through our work, and no character is more outrageously delightful than the Yellow Yeti himself! The coming together of Zodiak, Disney, YLE and our creative team at Gigglebug has been great fun and together we look forward to sharing with kids everywhere our exuberant fish-out-of-water comedy about the power of friendship and belonging."
Zodiak Kids holds international distribution right to the series.