Investing in Growing European Media Content Business

Creating success stories in TV, Film and Interactive media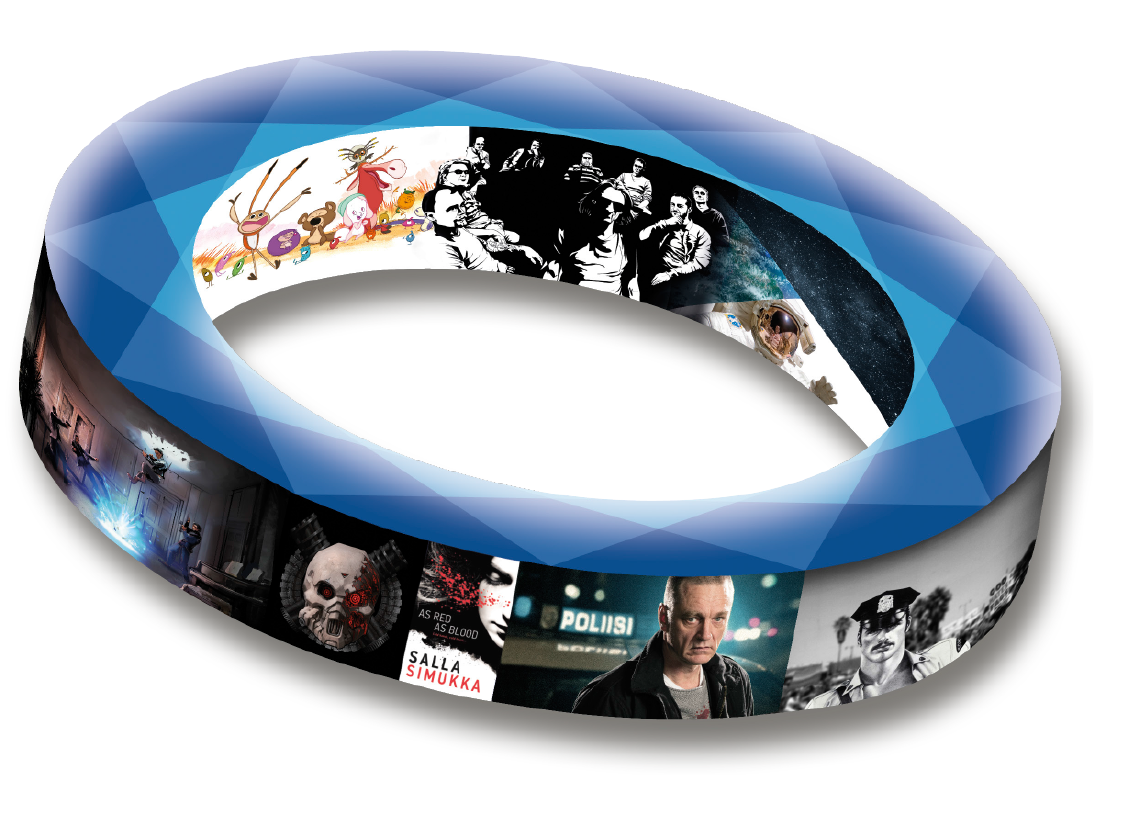 IPR.VC is a venture investor focused on media content. Our own background and skills as entrepreneurs and investors is from within media. We love stories and content, and we understand media entrepreneurs and especially the industry. IPR.VC seeks and finances ambitious media business entrepreneurs who want to bring their moving image stories to international success.
Media and entertainment industry is a $1.9tn growth industry that is going through a major transition. The transition is caused by Internet distribution and changing media consumption habits and it opens up major new opportunities and brings new winners. Media content – TV, film – has become a key differentiator in media and entertainment business leading to growing demand of premium content. For our Funds' investors, our task is to give access to this new investment area and deliver good profits for them.
Latest News
Finnish TV Academy's Best program of the year for large scale international TV series

25/09/2018

Äijä the dog, photo Mika Hirvonen

The team behind Love of the Wild, a TV series that was the first northern Finnish production  to win Best program of the year, is making history once again. The same team that made Love of the Wild a success, is currently filming its international version Love of the Wild – From the Alps to the Arctic.A major party involved in the funding of the series is from IPR.VC.

The series is being filmed, as the title implies, from the Alps all the way to the Arctic areas of Europe, in five different European countries at the same time. The preparations for the series started in September 2017, and filming began in August 2018. The series will be in international distribution in 2020.

Äijä the dog to become an international star

The series presents the extremes of European nature, a natural way of life and people living in different cultures more impressively and extensively than any series before.

– We are filming in locations that are amazing and unique on a world scale. This is a whole new format and the series is created in 4K high definition technique according to the latest international quality standards, says Executive Producer Teemu Hostikka.

Because of the demanding filming locations, the series has hired, in addition to the experienced filming crew that worked on Love of the Wild, cameramen from Europe that are experienced in difficult and dangerous mountain conditions. The Finnish stars of the series are Aki Huhtanen, Emilia Laitinen and Äijä the dog, well known from the Finnish version. The new series follows their life in the gorgeous landscapes of Finnish Lapland.

– Finnish drama has taken major international steps in recent years. Nature related content is also one of our strengths, and Eränkävijät/Love of the Wild has a great opportunity to be the torch bearer in this development, says Director of Creative Content Ville Vilén from YLE.

Backed by well known investors and big names in the TV industry

The Finnish distribution rights to the series belong to Finnish Broadcasting Company YLE, and the first season airs in the Spring of 2020. A major party involved in the funding of the series is private equity investor for media content, IPR.VC, which was impressed by the international potential of the series.

– Love of the Wild is an appealing and original series in which the creators' true love for nature is conveyed to the viewer. We believe that the international version Love of the Wild – From the Alps to the Arctic will speak to viewers all over the world and bring success to both the production company and the investors of our fund, says Tanu-Matti Tuominen, partner and one of the founders of IPR.VC.

Love of the Wild – From the Alps to the Arctic is the largest undertaking so far for production company NTRNZ media Ltd, strongly headed for the international markets. The consultant for international sales for the series is Jorma Sairanen, the Grand Old Man of the TV Finnish industry. Sairanen realised the potential of Love of the Wild early on.

– IPR requested me to assess Finnish TV productions in the autumn of 2017, considering their international sales potential. Of the non-fiction productions being prepared at the time, Love of the Wild was a clear number one for me. The series has very good chances to be distributed internationally on TV-like platforms, says Jorma Sairanen.

The first two Finnish language seasons of the Golden Venla winner Love of the Wild have been sold to over 30 countries, and the third season premieres October 14th on YLE TV1 channel and YLE Areena streaming service.

For more information:

Teemu Hostikka

+358 45 639 8664,

Executive Producer / Showrunner
NTRNZ media Oy

teemu.hostikka(a)ntrnz.com




Tanu-Matti Tuominen

+358 500 593001

Partner, Co-Founder / IPR.VC

tanu-matti(a)ipr.vc

IPR.VC Invests in THE RED HARLEQUIN YA Fantasy Book Series

21/06/2018

(London, United Kingdom, June 20, 2018) Leading Finnish media fund IPR.VC has entered an agreement to fund the development of a TV series based on Roberto Ricci's YA Fantasy book series, The Red Harlequin. The agreement was reached with the author and his agent Lisa Hryniewicz, who have consequently co-founded Pantomimus Media, a limited company that will hold and develop all rights to The Red Harlequin.

The agreement will see IPR.VCinvested in the immediate development of a TV series and the long term, multi-platform strategy of the YA fantasy property, which currently encompasses five books (with five more planned over five years), a graphic novel (with a second in production), and several licensees (music, jewellery).

Timo Argillander, Managing Partner at IPR.VC, commented, "The Red Harlequinis a unique and compelling IP whose content can easily extend from books and comics to a plethora of formats and adaptations, such as TV, music, video games, film and licensing. We are confident that The Red Harlequinwill become an exciting phenomenon."

"We are thrilled that the team at IPR.VC has joined us in developing The Red Harlequinas a global entertainment franchise," added Roberto Ricci, creator of The Red Harlequinand Managing Director of Pantomimus Media. "IPR's strategic support will be instrumental to itssuccess as a quintessential 360transmedia property and we are very excited to be working together to make it happen."

IPR.VCis a dynamic venture capital investment company specialised in funding digital media content, for both domestic and international markets. Since its launch in 2015 the company has already amassed an impressive and varied portfolio of content including: Scandinavian crime drama Bordertown,distributed byFederation Entertainment; animated preschool show Gigglebug currently airing on Milkshake, YLE and SFR; and feature film How to Sell a War, directed by Rudolph Herzog, to name a few.

The first stage of IPR.VC'sinvestment in The Red Harlequin TV series development has kicked off with newly formed Pantomimus Media, in association with Executive Producer Rick Porras. Porras' previous credits include: Peter Jackson's The Lord of the Rings Trilogy (co-producer, and second unit director); Robert Zemeckis' Contact andForrest Gump; and most recently, Sony London Studio's upcoming title, Blood & Truth– a high-octane action narrative game, developed exclusively for PlayStation VR (performance capture directing).Porras will draw on his singular experience in ground-breaking, fantasy mega-projects, to oversee both the creative aspects of the TV production as well as its long-term 360 strategy.

The Red Harlequin saga features Asheva, an aspirational teenager living in a complex world divided among Chrome Nations, where everyone lives hidden behind a mask. Drawing inspiration from events such as the Arab Spring, Indignados and Occupy Wall Street, The Red Harlequinis a visually stunning and highly engaging allegory on society, religion, politics, morality and revolution – and a mirror of the current youth and populist movements currently shaking the globe.

The first five The Red Harlequinbooks are sold on Amazon where they have topped several best-seller lists. French language rights are held by Editions Ada, a specialist in Youth, YA and Adult fiction such as Divergent(Veronica Roth), Merlinseries (T.A. Baron), Fablehaven(Brandon Mull), Beyonders(Brandon Mull), and the Sweepseries (Cate Tiernan). The graphic novel rights are represented by leading European agency VIP Brands (Ivanka Hahnenberger).

For more information see: www.theredharlequin.com

About IPR.VC

Founded by Timo Argillander, Tanu-Matti Tuominen and Jarkko Virtanen in 2015, IPR.VC is a venture capital investment company specialised in digital media content.We are currently investing through IPR.VC Fund I, a Finnish venture fund of 20M€ total capital from professional institutional investors.

IPR.VC is looking for excellent media content creators and products to finance them and to help them to have international business. The funding gives the content creators and developers more influence for their products and productions commercialisation.

As a target company segment, IPR.VC serves unlisted, small, early-stage media and entertainment companies that produce replicable media content products, from mobile to big screen, aas well as physical goods for international markets.

The Finnish Financial Supervisory Authority (FIN-FSA) has registered IPR.VC Management as Alternative Investment Fund Manager. IPR.VC Management follows Invest Europe Professional Standards and IPEV Valuation Guidelines in investor reporting and valuation of investments.

About Roberto Ricci

Roberto Ricci is a fiction, short story and screenplay writer, with first-hand experience in dealing with diversity and children. During his long and varied career, he has worked as a journalist, been an officer in the Italian Army and a Senior Executive at Rainbow, a leading international children's entertainment company. A true citizen of the world, he also attended NYU and the European Business School. He has lived in Tokyo, New York, Rome, Milan, Paris, and London. Even more importantly, Mr. Ricci has children of his own, so he continually re-experiences the world with a fresh perspective, through their eyes.

Contact:

Lisa Hryniewicz

Tel: +44 203 652 5629

Mob. +4478 1140 6366

Film and Music Entertainment (IRE), Bankside Films and Quickfire announce start of shoot date on Rudolph Herzog's How To Sell a War, financed by Quickfire, Creative England, GNFC and IPR.VC

13/02/2018

How to Sell a War – the fiction feature film debut of leading international documentary director Rudolph Herzog has announced start of shoot dates.  The film was developed by Creative England, Film and Music Entertainment (UK) Ltd, Finnish financing house IPR.VC and is being produced by Samantha Taylor and Mike Downey via their Dublin-based Film and Music Entertainment (IRE) with key financing from the UK's Q
uickfire and Helsinki-based IPR.VC.  Shooting will begin on March 16 in Georgia.

London 2018 – In a few days time, the Piece Of Peace global charity concert is due to take place led by the vein and arrogant Irish rock star, Harry Hope and his over-confident PR consultant, Kate. When Russian war monger, Boris the Butcher, decides to call a cease-fire four days before the big event, Kate knows that she absolutely has to make this event happen or her career will be over. She embarks on a mission to Georgia to create a fake news story letting the world know that the war is back on. Assisted by her naïve new intern, Peggy, the two quickly discover that they have taken on more than they can handle and as events spiral out of their control, all hell quickly breaks loose.

How To Sell a War has been picked up for worldwide sales by UK sales outfit Bankside Films, and the production stars BAFTA winning Katherine Parkinson (The IT Crowd, The Boat That Rocked) in the leading role of Kate and co-stars up-and-coming Lily Newmark as naïve intern/niece Peggy whose five star performance in Pin Cushion scored her a BIFA nomination this year.

Rudolph Herzog (director) is an award-winning director, producer and writer. RTS Award-nominated The Paedophile Next Door for Channel 4, is BBC/ARD documentary on humour in Hitler's Third Reich sold widely internationally and his book Dead Funny on the same subject was named a book of the year by THE ATLANTIC. He directed The Heist for channel Four and in 2014, a documentary based on his book A Short History of Nuclear Folly was broadcast in Europe. He helmed a National Geographic special on the mysterious death of polar explorer Roald Amundsen and The Agent on the double agent Werner Stiller who escaped East Germany and became a millionaire at Goldman Sachs. His latest best seller, Teruggestalten, has been picked up by Philipp Kreuzer's Maze Pictures (The Happy Prince) for production.

Written by Tim Price (Dr. Who; Secret Diary of a Call Girl) whose National Theatre sell-out production Occupy starred Rhys Ifans and whose The Radicalisation of Bradley Manning won the prestigious James Tait Black prize for drama) he has brought to life an idea by Raid Sabbah which is co-produced in association with Georgia's 20 Steps Productions, and co-funded by Georgian National Film Centre and the tax credit scheme of Enterprise Georgia.

"It's really exciting to be producing How to Sell a War at the present time." says Fame's Samantha Taylor, "Katherine and Lily, our extremely talented lead actors, play two very funny women who stick it to the bully man, news-fakers, and to celebrity bullshit in general. With Rudolph directing a blazing script from Tim Price this is going to be a brilliant comedy trip. No one is safe. To paraphrase, humour isn't about appeasing the patriarchy but rolling over it in an armoured car. We're also very happy to be working for the fourth time with 20 Steps in Georgia and with Windmill Lane for the first. With this, and the support of IPR.VC, Quickfire, Bankside, GNFC, we are unstoppable."

Fame is in an advanced stage of negotiations to confirm Sister Bliss to compose the score for the film.  As the musical force behind Faithless, world-renowned DJ and record producer Sister Bliss needs no introduction. Together with iconic front man Maxi Jazz and producer Rollo Armstrong (brother of Dido), she formed Faithless: one of the most successful electronic acts to date.  In their career spanning nearly 20 years, the group released 7 albums (two at number 1), six top 10 singles and sold in excess of 15 million records worldwide.

Sam Taylor and Mike Downey founded the UK-based independent production house Film and Music Entertainment as part of an IPO on the Frankfurt DAX. Film & Music Entertainment films have been screened at Sundance, Berlin, Cannes, Venice, San Sebastian and Toronto Film festivals.  The first 18 years of F&ME's existence saw it entering into production on 60-odd co-productions with a total budget of $ 200 million involving 132 production companies from all over Europe, Latin America and Asia. It now has a catalogue of rights in over 60 features including Academy Award Nominee and Venice Golden Lion winner Before the Rain, Academy Award Nominee Mohsen Makhmalbaf's Venice opener The President, box office horror hit Deathwatch, Sundance South African hit Son of Man, Jason Biggs starrer Guy X and Dinard winner White Lightnin' as well as 2012 Berlinale Audience Award Winner Parada by Srdjan Dragojevic.

How To Sell a War is a Downey/Taylor production for Film and Music Entertainment (IRE) in co-production with 20 Steps Production and in association with Quickfire Films, Bankside Films, IPR.VC fund and the Georgian National Film Centre.  Developed in association with Creative England, Film and Music Entertainment (UK), and Kinomedia.  The film is produced by Sam Taylor and Mike Downey, co-producers are Vladimer Katcharava and Radek Drabik and executive producers are James Atherton, Jan Pace, James Bierman and Aleksi Bardy.

"We are thrilled to be bringing this whip-smart comedy to worldwide buyers." Says Bankside Films Director Stephen Kelliher, "It is an incredibly timely piece which speaks to the world we live in today.  We feel sure that its laugh-out-loud satire will resonate with international audiences and that the creative team will excel in bringing the ultimate story of fake news to the screen."

Timo Argillander Managing Partner and Co-Founder of the IPR.VC fund added:  "How to Sell a War is a perfect case for our content investment fund: a top-notch team tackles a theme so actual and important, and in a way that will reach big audiences all over the world."

Quickfire's Jan Pace added:

"We're delighted to be working with such an accomplished creative team looking to deliver this smart, contemporary comedy. We've been following this project from an early draft, which gripped us with its irreverence and sharp instinct in highlighting our great collective political ineptitude to brilliant comedic effect. We cannot wait to see this rich cast of characters brought to life by the talented cast and the excellent Rudoph Herzog in his first comedy, and welcome working with producers as experienced and passionate as Mike and Sam on this project."

The film will be shot by legendary German lenser Peter Zeitlinger whose work with Herzog senior has included, Grizzly Man, Bad Lieutenant: Port of Call New Orleans, Rescue Dawn and Cave of Forgotten Dreams as well as Nicole Kidman starrer Queen of the Desert.  The film will be edited by Anne Sopel whose most recent work includes Whisky Galore as well as Mr Selfridge and The White Princess.

Paul Ashton, Head of Film for Creative England whose Ashton's executive producer credits at Creative England include Rachel Tunnard's BIFA-winning feature debut Adult Life Skills, Justin Edgar's upcoming feature The Marker and Jack Lowden-Martin McCann thriller Calibre remarked:

"It has been an absolute delight developing this project with FAME. I've been a fan of Tim Price's work for a long time, and his collaboration with Rudolph Herzog has given life to an outrageously contemporary and deeply discomforting satire about war, politics, power, idealism and 'fake news'. I cannot wait to see the finished film."

Filmed on location in in Georgia and Dublin, casting is handled in the UK by Wildman Hall. Production services in Georgia have been supplied by Caucasian Film Service, post production services and investment will come from Dublin-based Windmill Lane, where the complete edit and all post will take place.  Local accounting services supplied by Grant Thornton and legal services on behalf of the producers by Mathesons.