Investing in Growing European Media Content Business

Creating success stories in Media and Entertainment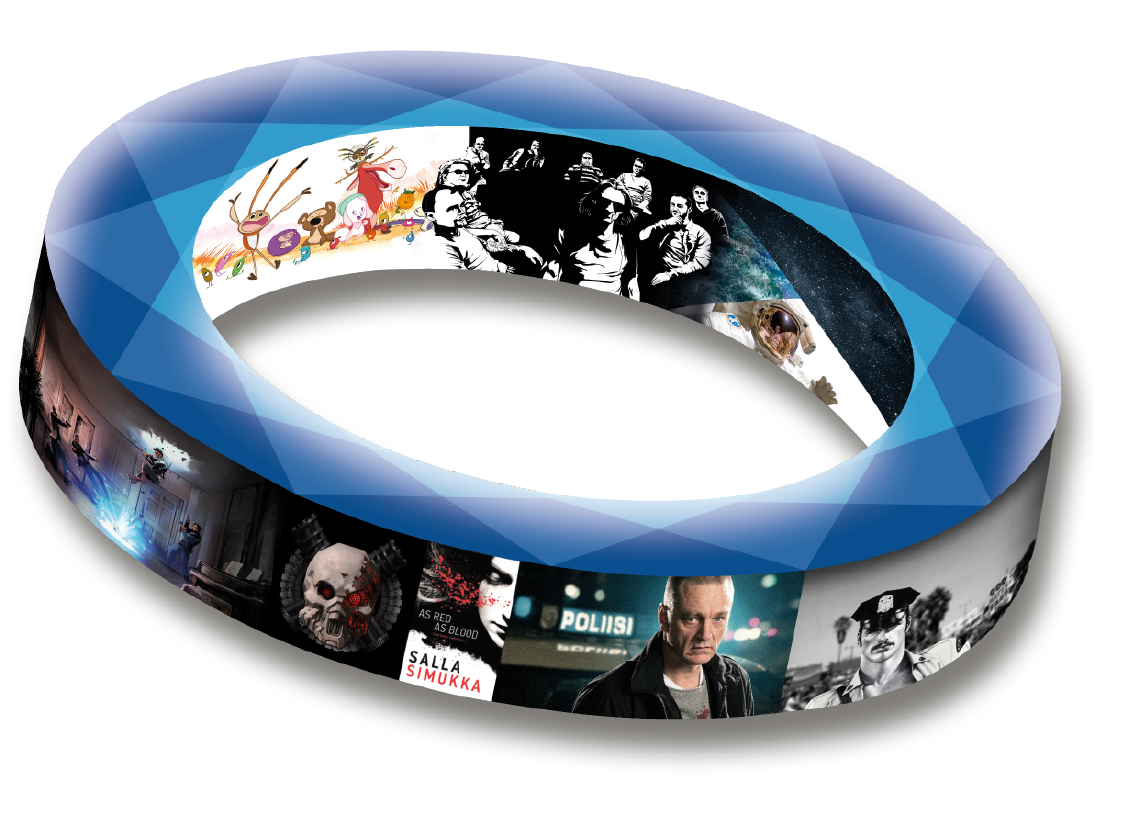 IPR.VC is a venture investor focused on media content. Our own background and skills as entrepreneurs and investors is from within media. We love stories and content, and we understand media entrepreneurs and especially the industry. IPR.VC invests in ambitious media business entrepreneurs who want to bring their moving image stories to international success. We finance content IPs through partnerships with leading sales and distribution companies.
Media and entertainment industry is a $1.9tn growth industry that is going through a major transition. The transition is caused by Internet distribution and changing media consumption habits and it opens up major new opportunities and brings new winners. Media content – TV, film – has become a key differentiator in media and entertainment business leading to growing demand of premium content. For our Funds' investors, our task is to give access to this new investment area and deliver good profits for them. Historically entertainment asset performance has no relationship to the macro-economic trends and is not affected by stock exchange fluctuations.
Latest News
Creating an impact on environmental, social and governance matter – IPR.VC ESG update 2020

15.07.2020

The world we live in is in the middle of huge challenges from climate change to refugee crisis, not to mention Covid-19. As the governments around the globe are struggling to prepare and react for crisis's, it has become clear during the last 12 months that businesses can and must contribute on their behalf to society and to address the global issues.

In the investment community a key tool for creating positive impact on society is policy for environmental, social and governance matters, in short ESG.

At IPR.VC we implement an ESG assessment for each new investment and run annual ESG checks to our portfolio companies and assets.

In our 2020 ESG assessment we have identified three key areas for the upcoming 12 months:

Reducing environmental impact of film and TV productions
Enhancing diversity and inclusivity in our portfolio
Ensuring that anti-harassment policies are in place

For environmental impact we have created a planning and auditing model that will be rolled out in productions we finance during the next 12 months. We have started piloting the model in the first projects to collect feedback on real impact and practical implementation of the model. The model will cover key environmental aspects, such as people and goods, logistics, power supply, catering and waste streams. We will be requiring the deployment of the planning and auditing model in all our future investments.

For diversity and inclusivity, we are tracking female and male split and the amount of different nationalities. We are also studying ways to expand our tracking to other dimensions of diversity. The female share has steadily grown when it comes to all employees and board members of portfolio companies, but for managerial positions the development has stalled this year. We have taken an active role in enhancing female share of board members in the companies where we are shareholders. This has led to the companies starting to look for new board members beyond their existing networks, which has helped them to recruit both female and male board members outside of the old circles.

In the area of anti-harassment, we can now share that there is an anti-harassment policy in place in all of our portfolio companies. The next step is to define practices to ensure that the policies are in place and working as planned.

As investors it is our responsibility and privilege to work in ways that create positive impact on society. What we have achieved so far is a good start – but this is a long distance run and we need to challenge ourselves and our portfolio to continuously work towards to making the world a better place.

Media Coverage – XYZ FILMS / IPR.VC Fund II investment launch

08.11.2019

XYZ Teams With Finland-Based VC Fund to Raise $100 Million Genre Film Slate Fund

By Tom Grater

DEADLINE

November 7, 2019

https://deadline.com/2019/11/xyz-teams-finland-based-vc-fund-raise-100m-genre-film-slate-fund-1202779737/

XYZ Films

XYZ Films and Finland-based venture capital firm IPR.VC have joined forces to raise a $100m fund that will be utilized to back a slate of genre pictures.

The money will fund 15-20 features and will focus on filmmaker-driven independent genre fare. It gives XYZ more muscle to fully-finance in-house.

The move is the latest in a busy year for XYZ, with the company having also established a talent management division with the hiring of former Universal & ICM Exec Peter Van Steemburg in June. XYZ also hired Tatyana Joffe as its President of International Sales & Distribution back in January.

"Our model has always been making responsibly-budgeted films from filmmakers we want to support.  With funding from IPR, we can now be a one-stop shop for production, distribution and financing," said XYZ partners Nate Bolotin, Nick Spicer, and Aram Tertzakian.

The deal was negotiated by Maxime Cottray for XYZ Films and by Elisa Alvares for IPR.VC.

"XYZ's bold vision and talent-focused approach make them the perfect partner to launch IPR.VC's second M&E fund. We look forward to our continued collaboration with XYZ's outstanding team to create another successful venture for our investors," says Timo Argillander, Managing Partner of IPR.VC.

– – – – – –

XYZ Raises $100 Million in Production Financing

by Dave McNary

Variety

November 7, 2019

https://variety.com/2019/film/news/afm-xyz-films-100-million-production-financing-1203394949/

Los Angeles-based production, sales and management outfit XYZ Films has raised $100 million in production financing across a slate of 15 to 20 films.

Venture capital firm IPR.VC, based in Helsinki, Finland, is co-financing the slate. XYZ made the announcement Thursday on the second day of the American Film Market.

Notable XYZ titles include Gareth Evans' "The Raid" and "The Raid 2," Macon Blair's Sundance winner "I Don't Feel at Home in this World Anymore," Karyn Kusama's "The Invitation," Panos Cosmatos' "Mandy" and Joe Penna's "Arctic."

XYZ said the funds enable it to fully finance or co-finance the filmmaker-driven independent genre fare on which it has built its brand. Earlier this year, it hired Tatyana Joffe as its president of international sales and distribution, formed a documentary division and most recently establishing a talent management division.

"Our model has always been making responsibly budgeted films from filmmakers we want to support. With funding from IPR, we can now be a one-stop shop for production, distribution and financing," XYZ said.

"XYZ's bold vision and talent-focused approach make them the perfect partner to launch IPR.VC's second M&E fund. We look forward to our continued collaboration with XYZ's outstanding team to create another successful venture for our investors," said Timo Argillander, IPR.VC managing partner.

The deal was negotiated by Maxime Cottray for XYZ Films and by Elisa Alvares for IPR.VC

– – – – – –

XYZ Films Unveils $100 Million Genre War Chest

by Alex Ritman

HOLLYWOOD REPORTER

November 7, 2019

https://www.hollywoodreporter.com/news/xyz-films-unveil-100m-genre-war-chest-1253036

The capital boost enables XYZ — which has produced movies including the Nicolas Cage cult hit 'Mandy' — to fully finance or co-finance what the company describes as the "filmmaker-driven independent genre fare on which it has built its brand."

Genre specialists XYZ Films has raised about $100 million to fund a slate of 15 to 20 titles cofinanced by Finnish venture capital company IPR.VC.

The capital boost enables XYZ — which has produced movies including the Nicolas Cage cult hit Mandy and backed Gareth Evans' martial arts breakouts The Raid and The Raid 2 — to fully finance or co-finance what the company describes as the "filmmaker- driven independent genre fare on which it has built its brand."

The move is the latest in a series of expansions at the 11-year-old production and sales banner founded by Nate Bolotin, Nick Spicer and Aram Tertzakian. This year, it branched out into talent management, created a documentary division and hired sales veteran and former Global Road executive Tatyana Joffe as its president of international sales and distribution.

"Our model has always been making responsibly budgeted films from filmmakers we want to support," XYZ said in an announcement. "With funding from IPR, we can now be a one-stop shop for production, distribution and financing."

IPR.VC is a Helsinki-based venture capital fund investing in the media and entertainment sectors with a focus on intellectual property.

"XYZ's bold vision and talentfocused approach make them the perfect partner to launch IPR.VC's second M&E fund," said managing partner Timo Argillander. "We look forward to our continued collaboration with XYZ's outstanding team to create another successful venture for our investors."

The deal was negotiated by XYZ's Maxime Cottray and IPR.VC's Elisa Alvares. XYZ's most recent films include Synchronic, starring Anthony Mackie and Jamie Dornan; the Cage cosmic thriller Color out of Space; and the sci-fi flick Stowaway, starring Anna Kendrick and Toni Collette

– – – – – –

XYZ Secures $100 Million in Production Financing

by Jeremy Kay

SCREEN DAILY

November 7, 2019

https://www.screendaily.com/news/xyz-films-secures-100m-production-financing/5144490.article

In a significant step that signals its ambitions, Los Angeles-based genre specialist XYZ Films has secured approximately $100m in production financing to support a slate of 15-20 features co-financed by Finnish venture capital firm IPR.VC.

The fund raise enables XYZ to fully finance or co-finance the filmmaker-driven independent genre fare on which it has built its brand and is the latest expansion after the hire of Tatyana Joffe as president of international sales and distribution, and the launch of documentary and talent management divisions.

Helsinki-based IPR.VC is backed by Nordic institutional investors and puts money in media and entertainment with a focus on intellectual property.

"Our model has always been making responsibly-budgeted films from filmmakers we want to support," said the XYZ partners Nate Bolotin, Nick Spicer, and Aram Tertzakian. "With funding from IPR, we can now be a one-stop shop for production, distribution and financing."

"XYZ's bold vision and talent-focused approach make them the perfect partner to launch IPR.VC's second M&E fund," said IPR.VC managing partner Timo Argillander. "We look forward to our continued collaboration with XYZ's outstanding team to create another successful venture for our investors."

Maxime Cottray of XYZ Films negotiated the deal with Elisa Alvares for IPR.VC.

XYZ's AFM sales titles include thrillers Gilded Rage starring Christophe Waltz, Lily Collins and Bill Skarsgard, andAirborne with Alexandra Daddario. The company launched in 2008 and highlights include Gareth Evans' The Raid and The Raid 2, Karyn Kusama's The Invitation, and Joe Penna's Arctic.

XYZ FILMS RAISES PRODUCTION FINANCING FOR SLATE OF FILMS BACKED BY IPR.VC

08.11.2019

LOS ANGELES, CA (November 7th, 2019) – Los Angeles-based production, sales and management outfit XYZ Films announced today that it has raised funding to provide production financing across a slate of 15 to 20 films to be produced in the US and in Europe and targeted to global markets. Venture capital firm IPR.VC, based in Helsinki, Finland, is co-financing the slate.

The raise enables XYZ to fully finance or co-finance the filmmaker-driven independent genre fare on which it has built its brand.  It is the latest in a series of expansions for XYZ this year, beginning with the hiring of Tatyana Joffe as its President of International Sales & Distribution, forming a documentary division, and most recently establishing a talent management division.

"Our model has always been making responsibly-budgeted films from filmmakers we want to support.  With funding from IPR, we can now be a one-stop shop for production, distribution and financing" say XYZ partners.

IPR.VC is a Helsinki-based venture capital fund investing in the media and entertainment sector, with a focus on intellectual property.  The fund identifies and supports visionary entrepreneurs in the content space.

"XYZ's bold vision and talent-focused approach make them the perfect partner to launch IPR.VC's second M&E fund. We look forward to our continued collaboration with XYZ's outstanding team to create another successful venture for our investors.", says Timo Argillander, Managing Partner of IPR.VC.

The deal was negotiated by Maxime Cottray for XYZ Films and by Elisa Alvares for IPR.VC.

About XYZ Films:

XYZ Films is an integrated content company whose mission is to empower visionary storytellers from every corner of the planet. As an independent production company and worldwide sales agency, the company is uniquely suited to identify talented filmmakers and bring their stories to life. XYZ was founded in 2008 by Nate Bolotin, Nick Spicer, and Aram Tertzakian.  Notable XYZ titles include Gareth Evans' The Raid and The Raid 2, Macon Blair's Sundance winner I Don't Feel at Home in this World Anymore, Karyn Kusama's The Invitation, Panos Cosmatos' Mandy, and Joe Penna's Arctic.

About IPR.VC:

Founded in 2015, IPR.VC is a venture capital fund manager focused on the Media & Entertainment sector. Backed by Nordic institutional investors, IPR.VC operates out of London and Helsinki, and works with a network of professionals in major European media centres. IPR's funds have exposure to film, TV, videogames, animation amongst other subsectors, and its new Fund II is dedicated to investing in the production and distribution of filmed entertainment. In collaboration with carefully selected strategic commercial partners, IPR invests in film and TV assets made for the global audiences. IPR.VC is a regulated alternative investment fund manager (AIFM) and it commits to responsible investment principles.

Media Contact:

Erik Bright

Jason Kasperski

Prodigy PR